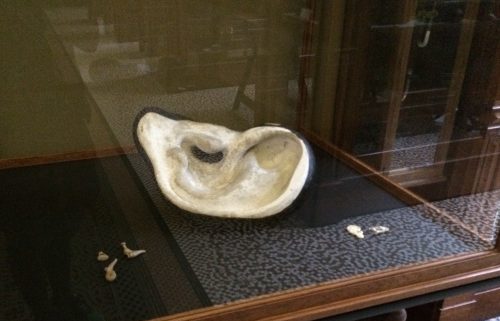 25 April 2023: "I Scatter Myself" Claude Cahun and Marcel Moore at the Water's Edge
In 1938, the artists Claude Cahun and Marcel Moore relocated from Paris to Jersey Island, in the English Channel, to live in a house overlooking the sea and its ever-shifting edges. The tidal range on Jersey is extreme; the island nearly doubles in size at low tide, so Cahun and Moore were living with a landscape of continual flux. In this lecture, Amelia Groom will draw from a manuscript-in-progress that looks at the work of Cahun and Moore through the lenses of queer and trans ecologies and environmental art practice. Following a recent visit to Jersey Island, Groom's lecture will look to the tides, littoral liminality, and thalassic longing (even thalasso-sexuality) as animating forces in CC and MM's literary and photographic work–and in their anti-fascist activism–focusing on how the artists' refusal of gender stability/legibility plays out through an expansive ecological imaginary. (Groom's research for this project has been generously supported by a grant from the Association for Art History UK, which allowed her to visit Cahun and Moore's archives and haunts on Jersey Island.) Lecture / presentation of work-in-progress for Jill H Casid's course Contemporary Queer Art and Visual Culture at UW-Madison – free to attend via zoom, 5.30PM CT.
22 February 2023: There's No Beginning; There is No End
This event marks the launch of the Sandberg Instituut's 2022 Graduation Publication. I contributed an essay to the publication, looking at Scheherazade, strategies of indirection, and decolonial-feminist models of parrhesia. As part of the launch, editors Aidan Wall and Artun Alaska Arasli invited me to give a talk for their Public Sewer series, for which speakers are asked to address some submerged niche interest in the gutters of their creative practice. I'll be speaking about Mariah Carey, focusing on the opening line from her memoir: "I refuse to acknowledge time". There will also be a talk from artist Becket MWN, on reincarnation literature. 17.00 in the Sandberg Auditorium.
25 January 2023: Refuge and Reparative Practice
In collaboration with Anja Sunhyun Michaelsen, I selected a series of texts for Refuge and Reparative Practice, the student reader for this year's Gerrit Rietveld Studium Generale program, which is on the theme of Refuge. For this lunchtime library talk, I will speak about ten books in the library's collection that relate to the texts selected for the reader. 13.00 at the Rietveld Sandberg Library.
21 January 2023: Longer thoughts than mind can have
Book launch for Elena Khurtova's Displace, an ephemeral artist book printed in pigments made from soil. I will be reading from the essay I contributed, Longer thoughts than mind can have. 15.00 at Looiersgracht 60, Amsterdam.
9 January 2023: The Way of Cats
As an external critic at Werkplaats Typografie, I will be giving a talk on cats in Claude Cahun & Marcel Moore's art and activism. This relates to my ongoing research on Cahun and Moore's work, which I am approaching through the lenses of queer and trans ecologies. The talk will begin around 16.00 at Werkplaats Typografie in Arnhem.
17 August 2022: Berlin book launch for Beverly Buchanan: Marsh Ruins 
Hopscotch Reading Room is hosting the Berlin launch of my book Beverly Buchanan: Marsh Ruins (published by Afterall). There will be some videos, some readings, a discussion, some drinks, and a raffle. Hopscotch Reading Room: Kurfürstenstraße 14/Haus B, 10785 Berlin.
7 July 2022: Experimental Writing Methods in Practice Research
I'll be giving a presentation as part of a seminar on experimental writing methods in practice research, led by Maria Fusco at the Scottish Graduate School for Arts and Humanities. 2–4pm GMT+1. Online event. Free registration here.
29 May 2022: Taken in by the Sea
I organised a gathering on the work of Beverly Buchanan at the Laboratory for Art Research, Royal Danish Academy of Fine Arts, Copenhagen. With contributions from Phoebe Collings-James, Bhanu Kapil, M. Ty, Kiyan Williams, and The Many Headed Hydra. In-person event at the art school; be in touch with me if you would like to join.
4 April 2022: "I'm the one with a sculpture at the bottom of the Ocmulgee River"
Online lecture on Beverly Buchanan as part of the series "Practicing the Environment" at The New School, New York. 6–7:15 pm EDT. Details and registration here.
16 March 2022: Wetlands (Notes on Beverly Buchanan's submerged sculptures)
Lecture as part of the Studium Generale "Oceanic Imaginaries" program at the Rietveld Academy in Amsterdam. Details here.
20 January 2022: Conversation with Tehching Hsieh and Adrian Heathfield
This free online event is part of No Linear Fucking Time at BAK Utrecht. Details + registration here.
11 November 2021: I Didn't Go In To Work Today… I Don't Think I'll Go In Tomorrow
A panel discussion that takes as its focus histories of anti-work, sabotage, fantasies of abundance, and attempts to smash, destroy or mutate linear time – all points of reference that inform Sam Keogh's exhibition; Sated Soldier, Sated Peasant, Sated Scribe at Goldsmiths CCA in London. Esther Leslie (moderator), Avery Gordon, Gavin Mueller, and me; online event. Details + registration here.
9 November 2021: Illegible Escapes: Writing and Archiving with Avery F. Gordon 
Workshop at ICI Berlin with The Hawthorn Archive's Avery F. Gordon, organised with Anja Sunhyun Michaelsen and M. Ty. Details + registration here.
4 November 2021: Marsh Ruins book launch at Melly (Rotterdam)
I'll be reading from my book and presenting broader research on Beverly Buchanan's environmental sculptures. Following the presentation, I'll be in conversation with artist Dagmar Bosma. 6–8pm, November 4 at Kunstinstituut Melly, Witte de Withstraat 50, 3012 BR Rotterdam, N
L. Info and registration here. Venue accessibility here. Proceeds from this event will go to the St. Simons African American Heritage Coalition.
3 November 2021: Marsh Ruins book launch at San Serriffe (Amsterdam)
Info / registration here.
16 September 2021: clipclub@District
As part of the program still in touch: on queer friendships & poetic forms of resistance curated by Karin Michalski, I'll be giving a talk in response to the video Silent by Pauline Boudry & Renate Lorenz. The evening features DJ-sets by Bianca Kruk, snacks, drinks, talks by Todd Sekuler and myself, and videos by Aykan Safoğlu and Boudry / Lorenz, as part of the clipclub queer-feminist film and video art series. Registration and COVID guidelines for the event here. From 5 pm at District Berlin, Bessemerstraße 2-14 12103. District is wheelchair accessible.
7 January 2021: Appeal to the Stone
As part of the online program for the 2020 Goldrausch exhibition at Kunstraum Kreuzberg/Bethanien in Berlin, I will be speaking with the artists Yasmin Bassir, Chan Sook Choi, Silvia Noronha and Juliane Tübke about their work with stoney materialities and anthropogenic geologies. Thursday, January 7th at 7 p.m, online event, registration here.
19 September 2020: Enter RUMOUR, painted full of tongues
I wrote a short text for Matilda Kenttä's 'Summer Res(t)idency' at Kunstverein Amsterdam, in response to her new series of site-specific textile works, which weave thoughts and conversations on the gendered histories of labour, looms, laziness and gossip. I will be doing a short reading for the closing event on Saturday evening: Kunstverein Amsterdam, Hazenstraat 28 1016 SR,19 September 19, 19.00. PDF
12 September 2020: Grapevine Epistemologies
I am presenting a lecture on rumour, gossip, hearsay and 'grapevine epistemologies' as part of the K 2020 program at Lothringer 13 in Munich. Initiated by the art and research collective K, the exhibition and public program runs from 25 June until 27 September at Lothringer 13 Halle, Lothringer Strasse 13, 81667, Munich.
Online events at ICI Berlin
On June 10 at 18.00: Unknown Language, a reading and discussion with author Huw Lemmey about his forthcoming novel which is co-authored with the twelfth-century mystic Hildegard of Bingen.
On June 17 at 18.00: Domestic Optimism, a presentation of work in progress and a discussion with artist Emma Wolf-Haugh about their ongoing research on 'sexually dissident domestic design'.
On July 8 at 19.30: Lived experience autocorrecting to loved experience, a reading and presentation of work by Amalle Dublon and Johanna Hedva, beginning from Hedva's recent text Get Well Soon.
January 22 2020: "Silence; Laughter"
January 16-17 2020:
I'm heading to Eindhoven to participate in the two-day Research Writing Studio organised by Maria Fusco and Christa-Maria Lerm Hayes at the Van Abbemuseum.
January 11 2020: "200 Sisters Souvenirs"
Following Rebecca Stephany's presentation of her 200 Sisters Souvenirs research project (developed in the archives of the Badischer Kunstverein), I'll be responding with a short presentation considering questions of historical erasure as well as the possibilities of bleach-inscriptions within feminist responses to archival inheritance. The event is presented by thisiswarehouse.com and takes place at San Serriffe (Sint Annenstraat 30, Amsterdam) from 20:00.
November 1 2019: "Artificial Gut Feeling" – screening, reading and discussion with Anna Zett
To mark the launch of Anna Zett's new book Artificial Gut Feeling, published by Divided Publishing, this event will present readings from the book as well as a screening titled Zwischenarchiv (2019), with two recent videos by Zett. Following the readings and screening, I will appear in conversation with Zett. The event is open to all and free of charge. November 1st at 16.00, ICI Berlin Institute for Cultural Inquiry, Christinenstraße 18-19, 10119 Berlin. More information here.
October 4 2019: "Silence and Laughter"
I'm sending an audio contribution in absentia for SOUND::GENDER::FEMINISM::ACTIVISM in Tokyo, which is presented by Creative Research into Sound Arts Practice (University of the Arts London) and Graduate School of Global Arts (Tokyo University of the Arts). My paper looks at the entanglements of silence, laughter and refusal in the classic feminist film A Question of Silence (1982) by Marleen Gorris. The programme is on October 4 and 5 at Chinretsukan Gallery (12-8 Uenokoen, Taito City, Tokyo).
July 26 2019: "Organise the Silence"
I will be giving a lecture on the poetic & political possibilities of silence, as part of Unseen and Unheard presented by Cashmere Radio for Howling Wolf Festival. The evening also features a lecture from Kylie Gilchrist, and a "Collage of Silence" by Wilted Woman. At Wolf Kino (Weserstraße 59, 12045 Berlin) from 19:30.
June 12 2019: "Lichen Theory"
In conversation with Derek Woods and Alison Sperling at diffrakt centre for theoretical periphery in Berlin: www.diffrakt.space/en/lichen-theory
May 24 2019: "Partially Submerged Ruins"
I will be presenting a paper about the staging of ruination in Beverly Buchanan's environmental sculptures, as part of the morning panel for the upcoming Milieus of Minutiae conference, on Friday May 24 at ICI Institute for Cultural Inquiry Berlin – full program for the two-day conference here.
March 24 2019: "All A Blur"
I will be giving a lecture on lost images and blurry times, as part of the "Circluding History" conference for the Thinking Together program in the 2019 MaerzMusik festival in Berlin. Haus der Berliner Festspiele; free admission; in English with simultaneous German translation.
From February 22 2019: "Cave Staples"
Cave Staples is a new lithofeminist text installation by the Iduna Institute for Strategic Imitation & Delay and Amelia Groom, featuring backwards sounds, fake rocks and dry ice. Exhibition opening Friday 22nd February 17.00–20.00 at Peryton, Dronningens Tværgade 52, Copenhagen, Denmark.
December 8th and 9th 2018: "The Edges of the Voice"
I'll be in The Hague next month to host a discussion + workshop on 'the limits and potentials of vocal expression', together with Aurélie Nyirabikali Lierman, as part of The Reading Room at Stroom Den Haag. Participation is free but registration is necessary – more information here and here.
October 10 2018: "Full of Leaks"
'In the second talk of the Temporalities series, writer Amelia Groom reflects on how blurs and other sites of non-focus provide ways to reimagine time and its representation. Co-organised by Camden Arts and the Southeby's Institute of Art.' 7.00pm, Camden Arts Centre, Arkwright Road, London NW3 6DG.
30 May – 18 Aug 2018: "Flat Earth"
As part of the summer exhibition 2 UNLIMITED at De Appel, Amsterdam, I wrote a series of wall texts, in loose dialogue with the context of the show, which are displayed throughout, with typography and design by Johanna Ehde. The exhibition runs until August 18 at De Appel (Schipluidenlaan 12, 1062 HE, Amsterdam), and also features work by Cecilia Bengtsson, Em'Kal Eyongakpa, Zhana Ivanova, Ja Ja Ja Nee Nee Nee, Remy Jungerman, Patricia Kaersenhout, Aimée Zito Lema, Antonis Pittas and Werker Collective. I also wrote an essay on pareidolia and the paranoic imaginary for the 2 UNLIMITED reader.
May 15 2018: "A silence other than the one that is imposed"
I am giving a public talk on the aesthetics and political uses of silence, at the Karlsruhe College of Arts and Design in Germany, as part of the Talkshow series. 18.00 at Glaskubus, HfG Karlsruhe.
February 7 2018: "Lips Licks Leaks"
"In this lecture, Amelia Groom (who is hosting a reading group for the 2018 Studium Generale programme focused on 'the haptics of written and spoken language') will consider the mouth as a site of contact. Mouths are warm wet cavities into which food goes, and out of which words come. With these erogenous ('eros generating') zones, we taste, kiss, suck, sigh, sing, sip, spew forth, and get to know the world. Mouths are also sites of disciplinary inscription, where unevenly distributed regimes of power make contact with the flesh. Beginning with Anne Carson's readings of the non-male voice in terms of disruptive leakiness and defilement, this lecture will pay tribute to disobedient mouths in a range of historical, mythological and artistic examples." Part of the Rietveld Academie's Studium Generale Hold me Now: Feel and Touch in an Unreal World programme – 1.30pm in the Rietveld Gymnasium, Fred. Roeskestraat 96, 1076 ED, Amsterdam.
January 6 2018: Public lecture on the artist Beverly Buchanan at UdK, Berlin.
I'll be in Berlin to give a workshop for the 'Sister Stones and Blocks of Anger: Queer Petrographies' class at UdK (initiated by guest professor Suza Husse at Klasse Bonvicini). On January 6 I will also give a public lecture on Beverly Buchanan's cast stones and constructed ruins. 11am, Room 004, Universität der Künste Berlin, Hardenbergstraße 33, 10623.
December 2, 2017: "Art Time, Life Time: Tehching Hseh" at the Tate Modern, London
I'll be offering a response to Tehching Hsieh's work – especially the One Year Performance 1980-1 – as part of this free event with the artist at the Tate Modern.
October – November 2017: NCAD / IMMA Residency in Ireland
I'm heading to Dublin for a research and teaching residency hosted by the Irish Museum of Modern Art and the National College of Art & Design. I'll be giving a series of seminars as part of NCAD's 'Art in the Contemporary World' master's programme. On November 10 I'll also be giving a public lecture, 'Dense & Broken: On Rocks, Writing and Pareidolia'. 6pm at the Harry Clarke Lecture Theatre, NCAD, Thomas Street, Dublin.
September 2, 2017: "Remarks on Tides and Times" in Folkestone
I'll be in the UK for the opening day symposium of the Folkestone Triennial, presenting some remarks 'on tides and times'. 12.30pm at Quarterhouse, Mill Bay, Folkestone, CT20 1BN, UK.
April 29 2017: "Speak!"
As part of Lotte Schröder's project 'BAR' at Plan B Projects I'm giving a talk about stones and utterance. 4pm, Hamerstraat 22, 1021 JV, Amsterdam.
April 2 2017: "The God Sibling and the Belly Speaker"
"Join us for an afternoon of readings and vocal displacements with Amelia Groom and Gianmaria Andreetta. AG will share her recent writing on ventriloquism and the unlocalisable voice. GA will present his ongoing research on gossip as a distinct form of runaway speech. Together and apart, on and off script, they will consider dummies and dubbings; whispers and whines; tongues and their contaminations." 3pm at the CAC Reading Room, Contemporary Art Centre, Vokieciu 2 LT- 01130, Vilnius.
March 3 2017: "A viscosity with a will"
"In this lecture Amelia Groom explores the ways in which soft invertebrates (like cephalopods) and brainless slimes (like physarum polycephalum) invite new ways of understanding intelligence, embodiment and collectivity. As anthropocentric and neurocentric notions of intelligence start to decompose, existing conceptions of language, attention, memory and learning are being rethought. Keywords: polycephalic, Vampyroteuthis Infernalis, ink, hive minds, suckers, tentacular thinking, feelers, goo." Part of the Rietveld Academie's Studium Generale What Is Happening To Our Brain? programme. 1.30pm in the Rietveld Gymnasium, Fred. Roeskestraat 96, 1076 ED, Amsterdam.
February 19 2017: "Pink piss turned to amethysts"
As part of the exhibition All Heal (Valerian) – a tribute to Derek Jarman's garden – I am sharing some of my recent writing on rocks and corporeality. The exhibition (curated by Laurie Cluitmans and Jort van der Laan) runs at rongwrong from Feb 17 – March 26. 3pm at Binnen Bantammerstraat n.2, 1011 CK, Amsterdam.
January 2017: TransferNorth residency in Vilnius
As part of the inaugural TransferNorth 'Curatorial and Critical Writing Residency and Grant' I will be hosted by the Contemporary Art Centre (CAC) in Vilnius (for January and again in April).
November 6 2016: "The Permanent Collection"
As part of the launch event for 'The Life and Death of Works of Art' (edited by Christophe Lemaitre and published by Tombolo Presses) at P/////AKT Amsterdam I will be reading from my contribution to the book. 5pm at P/////AKT Platform for Contemporary Art, Zeeburgerpad 53, 1019 AB, Amsterdam.
July 7 2016: "Petrify"
A lecture about minerals, corporeality and dance, followed by a presentation of Harun Farocki's film 'Transmission' (2007), as part of the We Live Here summer academy on the topic of temporality. 4pm at DAS Graduate School, Grootlab,Overhoeksplein 2, 1013 KS, Amsterdam.
March 9 2016: "The secret lives of rocks"
"A lecture about pebbles, boulders, gravel, tectonics, gallstones, fossils and lava – examining various lithic relations and the ways in which our petrified companions can challenge the foundations and limits of the category 'human'." Part of the Rietveld Academie's Studium Generale public theory programme, Bots, Bodies, Beasts – The art of being Humble. 1.30pm in the Rietveld Gymnasium, Fred. Roeskestraat 96, 1076 ED, Amsterdam.
November 11 2015: "The myth of contemporaneity"
I'm speaking about 'contemporaneity, community, feminism, time and Andrea Fraser's 'Men on the Line'', for the launch of the book 'The Myth of Contemporaneity'. Published by Acco and Fontys School of Fine and Performing Arts in Tilburg, the book features contributions by Marinke Marcelia, Thijs Lijster, Claire Bishop, Marc Boumeester, Christianne Niesten, Jonas Staal, Navid Nuur, Jan States, Pascal Gielen, Charles Esche and myself. 19.30 at Flemish Arts Centre De Brakke Grond, Nes 45, 1012 KD, Amsterdam.
November 4/5 2015: "Contratiempos" in Madrid and Murcia
I'm travelling to Spain to speak about 'the politics of time in contemporary art' at the conference Contratiempos: Gramáticas de la Temporalidad en el Arte Reciente / Grammas of Time in Recent Art, presented by the University of Murcia + the Department for Promotion of Fine Arts at the Spanish Ministry of Culture. On November 4 at 19.00 I'll be giving a lecture at La Tabacelara in Madrid, and on November 5 at 19.00 I'll be repeating myself at Centro Parraga in Murcia – both lectures will be given in English, with simultaneous Spanish translation. The full conference program for can be found here, all events are free to attend.
April/May 2015: Residency at The Banff Centre, Canada
I'm spending seven weeks in the Canadian Rockies for a 'Literary Arts Self-directed Writing Residency' at The Banff Centre (generously supported by the Australia Council for the Arts).
March 2015: "The Politics of Time" in Berlin
I'm in Berlin for Thinking Together: The Politics of Time at MaerzMusik Festival for Time Issues (curated by Berno Odo Polzer), which begins with the partial solar eclipse on the morning of March 20. I'll be running a seminar called 'Time Pieces', with guests including Sven Lütticken, Patricia Reed, Mark von Schlegell and Soda­_Jerk. Timepieces and pieces of time, time pieced together, time torn to pieces. On March 22 at 12.00 I'm also giving a  public lecture. The conference program can be found here. Haus der Berliner Festspiele, Schaperstraße 24, 10719 Berlin.
27 February 2014: "TIME" at Whitechapel Gallery, London
I'll be giving a public talk, and screening the video work 1963/1965/2014 by nova Milne, to launch the new Documents of Contemporary Art anthology on TIME, edited by me and published by Whitechapel Gallery & MIT Press. 7pm at Study Studio, Whitechapel Gallery, 77-82 Whitechapel High St, E17QX, London.