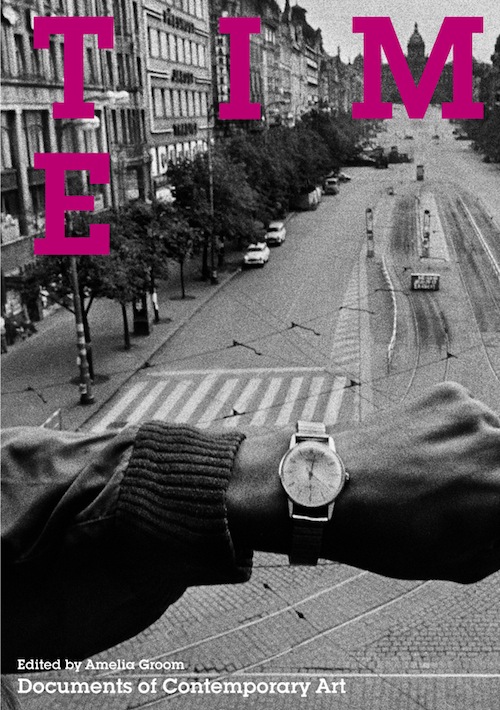 .
Artists surveyed include: Marina Abramović // Doug Aitken // Francis Alÿs // Matthew Buckingham // Janet Cardiff // Paul Chan // Jeanette Christensen // Moyra Davey // Dexter Sinister // Olafur Eliasson // Bea Fremderman // Antony Gormley // Douglas Gordon // Tehching Hsieh // Toril Johannessen // On Kawara // Joachim Koester // Lee Ufan // Christian Marclay // nova Milne // Trevor Paglen // Philippe Parreno // Katie Paterson // Raqs Media Collective // Sylvia Sleigh // Simon Starling.// Michael Stevenson // Hito Steyerl // Hiroshi Sugimoto // Time/Bank // Agnès Varda
Writers include: Giorgio Agamben // Emily Apter // Karen Archey // St Augustine //   Mieke Bal // Geoffrey Batchen // Hans Belting // Franco 'Bifo' Berardi // Henri Bergson // Daniel Birnbaum // Yve-Alain Bois // Jorge Luis Borges // Italo Calvino // Gilles Deleuze // Georges Didi-Huberman // Brian Dillon // Elena Filipovic // Elizabeth Grosz // Boris Groys // Rachel Kent // Rosalind Krauss // George Kubler // Quinn Latimer // Bruno Latour // Doreen Massey // Jean-Luc Nancy // Michel Serres // Michel Siffre // Mark von Schlegell // Nancy Spector // Jan Verwoert // Dōgen Zenji
Published by Whitechapel Gallery and The MIT Press, this Documents of Contemporary Art anthology will be out in October 2013.
* On 27 February 2014 I am giving a talk at the Whitechapel Gallery for the book's launch event –

info here

.
"Questions of temporality currently preoccupy the world of artistic creation, as well as its history. Discussions about 'the contemporary' reveal the wealth of ideas that have replaced the architecture of continuity and teleology that once supported the notion of modernity. Heterochronicity and anachrony now replace chronology as the temporal models most suited to the understanding of works of art. This anthology brings together a host of interesting reflections by artists, critics, historians and philosophers on a topic that proves inexhaustible. These authors argue that representation itself proves incapable of grasping the elusive nature of time, since temporal instability is the hallmark of language."
– Keith Moxey, Barbara Novak Professor of Art History, Barnard College, Columbia University
"Theorizing time is itself a temporal and historical activity. Combing a focus on recent writing with glimpses of the longue durée of time-theory, this anthology presents us with a constellation that is far from frozen in time. Its elements interact and enter into new relations each time the volume is consulted. You can't step into the same anthology twice."
– Sven Lütticken, Lecturer on Visual Arts and Programme Director, VAMA, University of Amsterdam
Some reviews of the book can be found here.