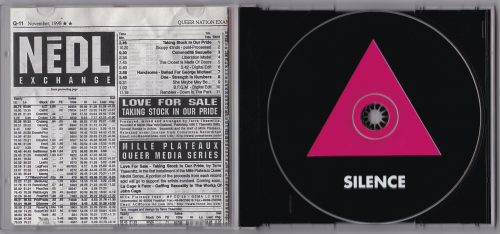 Terre Thaemlitz, Love for Sale: Taking Stock in Our Pride (Germany: Mille Plateaux, 1999, MP58). CD in jewel case with 1×4 panel booklet insert. Image courtesy of Comatonse Recordings. 
Beyond a binary logic where silence is set up in opposition to sound, there is space for amplification and proclamation as well as coded, disguised, whispered and withheld speech. This essay discusses the confrontational and protective silences that have been deployed in the work of Terre Thaemlitz – recalling the audio producer's proposal, back in 1998, for queer sound as 'an irresolvable sound which declares its presence at the same time it eviscerates itself'.
'Hush Now': Terre Thaemlitz and the Languages of Silence is published as part of Nottingham Contemporary's 'Sonic Continuum' series at The Contemporary Journal.