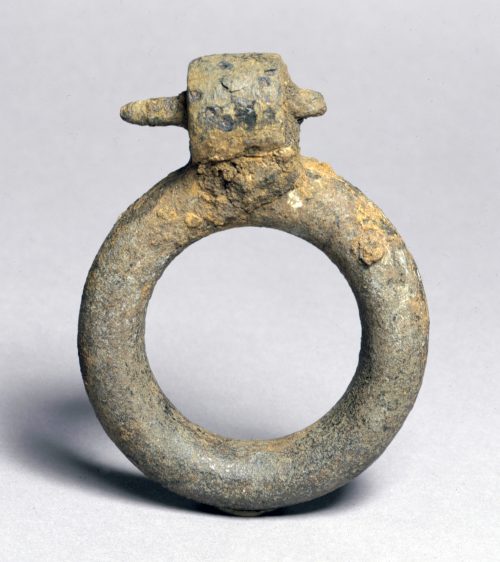 Baroness Elsa von Freytag-Loringhoven, 'Enduring Ornament' (1913), found rusted metal ring, approximately 3 1/2 inches in diameter. Mark Kelman Collection, New York.
'Enduring Ornament' is an essay about rust (named after an Elsa von Freytag-Loringhoven artwork from 1913), which I co-authored with M. Ty.
The text is published in the book Weathering: Ecologies of Exposure (ICI Berlin Press, 2020), and can be found in PDF version here and HTML version here.
Abstract: This is an essay about rust. Iron usually plays the part of strength, stubbornness, and impenetrability, but rust registers the dimension of time in the material, reminding us that it always carries the potential for its own decomposition. While great expense is incurred to stave off iron's oxidization, we read the uselessness that rust precipitates as an interruption of the instrumental logics that sustain racial capitalism. Looking to the rusted ring that became Elsa von Freytag-Loringhoven's 'Enduring Ornament' (1913), we consider how the discarded and defunctionalized lend themselves to ornamental redeployment. The essay then turns to works by the contemporary American artists David Hammons and Andrea Fraser, both of which transform Richard Serra's rusty steel sculptures into a backdrop for fleeting gestures of impromptu reclamation. Attending to questions of susceptibility and monumental weathering, these reflections look to rusty leakages that play out the impossibility of refusing the environment. Rust, we suggest, is a material archive of exposure that does not keep itself, but flakes apart and seeps away.
Keywords: rust; iron; piss; susceptibility; disuse; red; Minimalism; institutional critique; gentrification; stench