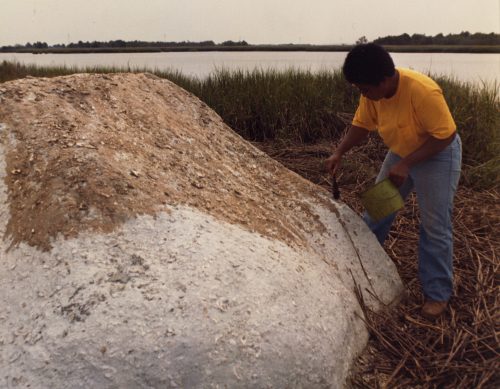 Beverly Buchanan's Marsh Ruins (1981) are large, solid mounds of cement and shell-based tabby concrete, yet their presence has always been elusive. Hiding in the tall grasses and brackish waters of the Marshes of Glynn, on the southeast coast of Georgia, the Marsh Ruins merge with their surroundings as they enact a curious and delicate tension between destruction and endurance. This volume offers an illustrated examination of Buchanan's environmental sculpture, which exists in an ongoing state of ruination.
Amelia Groom illuminates Buchanan's vision of sculptural ruination, and probes her remarkable work in terms of ideas of witnessing, documentation, landscape, and cultural memory. Existing in dialogue with land art and postminimalist sculpture, the Marsh Ruins are nevertheless unique refusals of art world classifications and systems of value. Making abstract use of concrete forms, Buchanan's works embody their own stakes, from colonialism's legacies of fracture and dislocation, to the workings of weather and time. In the words of her own mother, Buchanan had always "seen things" in rocks that others didn't see.
Published by Afterall Books and MIT Press.
Support your local bookstore if you can! There is for instance bookshop.org for online shopping in US/UK. If in EU, I believe my favourite bookstore San Serriffe has copies of the book and is doing EU shipping.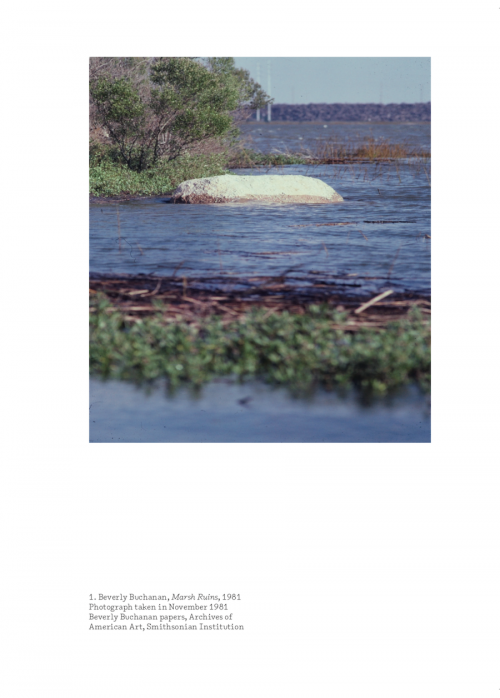 Related talks / events:
29 January 2021 – Online lecture for Word & Image research group, University of Amsterdam.
23 March 2021 – Online lecture for ho.ldin.gs at the Royal College of Art, London.
17 May 2021 – Online lecture for the Royal Academy's RA Schools, London.
21/22 October 2021 – 2-day workshop at Royal Danish Academy of Fine Arts, Copenhagen.
25 October 2021 – Online lecture for Sexual/Racial Ecologies in Art at The New School, New York.
3 November 2021 – Book launch at San Serriffe, Amsterdam – registration here.
4 November 2021 – Book launch at Kunstinstituut Melly, Rotterdam – registration here.
16 March 2022 – Lecture as part of the Studium Generale "Oceanic Imaginaries" program at the Rietveld Academy in Amsterdam – details here.
4 April 2022 – Online lecture for the series "Practicing the Environment" at The New School, New York – details and registration here.